GROUP CLASSES FOR BIRTHING PEOPLE/COUPLES
My group childbirth preparation classes  are Evidence Based Birth® Childbirth Classes which you can learn more about here.
Class schedule:
6 week group class starting January 20th (closed)
6 week group class starting April 14th (closed)
6 week group class starting May 4th (closed)
6 week group class starting July 14th (closed)
6 week group class starting October 14th (pending)
There is a limit of 6 couples for each group class.  Classes may fill quickly.  You can request to join the wait list for the above tentative classes by messaging me and I will notify you when registration opens.
---
1-DAY WORKSHOPS FOR BIRTHING PEOPLE/COUPLES
Are you looking forward to having a baby, but worried about all the unknowns… like how do I know if my wishes will be respected? Will my birth plan be followed? Can I avoid a traumatic birth experience, if I had one before?
The Savvy Birth Workshop for parents was developed by Evidence Based Birth® to give you and your partner the confidence and know-how you need to have a more positive, empowering experience in the birthing room.
At the Savvy Birth Workshop, you'll learn ways to communicate effectively with your doctor, midwife, and nurse. You will discover strategies for asking questions without seeming disrespectful and you'll get the inside scoop on how to stack the odds in your favor of having a positive birth.
Unlike other childbirth classes, we will help you avoid the typical assembly-line care with six virtual "tickets!" These "tickets" are your secret advantage to coping with the unknowns of birth! At the workshop you'll find out how you can use these tickets in the hospital or wherever you intend to give birth!
I am excited to offer the Savvy Birth Workshop to parents in the Metro Detroit/Ann Arbor community. I believe that the knowledge you will gain from the Savvy Birth Workshop will leave you and your partner inspired, hopeful, and excited about the upcoming birth of your baby… ready to approach the big day with a savvy swing in your step!
Learning Objective covered in the Workshop:
Define evidence-based care
Discuss the availability and pros/cons of local birth options
Practice respectful ways to talk with your provider
Discuss how partners, doulas, and nurses can work together to provide labor support
Describe the benefits and limitations of birth plans
Discuss the human and legal rights of birthing persons
Upcoming Savvy Birth Workshops:
September 21st, 2019 1-4pm Nature's Playhouse, Ferndale MI register here
November 4th, 2019 1-4pm Deanne Spivey Photography, Brighton, MI register here
Evidence Based Birth® Childbirth Class
EBB CBE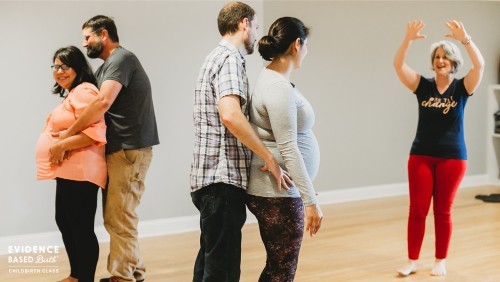 For 2019 classes in Brighton, MI.

Six-week hybrid (2 in-person and 4 virtual meetings) group class.
Basic registration for birthing person and partner gives access to online content for 3 months and one spiral workbook.
Upgrade options:

upgrade from 3 to 6 months online course access
Add an authentic Mexican Rebozo (needed for class)
Add 1 hour private zoom call to address any additional concerns once the class wraps up.
Add a full length virtual newborn breastfeeding course from at NaturalBreastfeeding.com. A $97 value. Created by world-renowned breastfeeding experts Nancy Mohrbacher, IBCLC, FILCA and Theresa Nesbitt, MD.
Brand:
Evidence Based Birth®
Upgrade online course access
upgrade to 6 months online course access (15)
Add Rebozo and access
add Rebozo and 6 months access (45)
Add a private consultation
1 hour virtual call (35)
Add virtual breastfeeding course
NaturalBreastfeeding.com course access (25)